Through decades of architecting and delivering Commodity Trade Risk Management (CTRM) systems, we have developed a proprietary Business Process Framework designed for transaction management that spans all commodities, transportation modes and business models, consisting of 15 Business Processes with over 140 Sub-Processes containing over 1000 requirements. This serves as the foundation for our energy management projects, accelerating requirements gathering, identifying coverage gaps, and providing a comprehensive structure to describe the full value chain from prospecting to value realization.
We Understand the Industry
Our experience and experts are as vast and diverse as the Energy Industry itself. We love a good challenge and are always looking for ways to bring innovation and change to the industry and our clients.
Producer Services
We know the challenges of production, gathering, and processing of raw natural gas, oil, and liquids. From modeling complex production forecasts, to managing well activities, and calculating and settling equity owner payments through solutions like Netback.
Wholesale Trading
We understand the risk, optimization, and decision analytic needs of companies engaged in wholesale trading and distribution.
Commercial + Industrial (C&I)
We have experience with solving the unique demands of management delivery to end users. From modeling product and contract offerings, to managing operational activities including demand forecasting and distribution, as well as supporting settlement and customer activities.
Liquified Natural Gas (LNG)
We have expertise in distinguishing and solving the many challenges of supply procurement, processing, and shipping engaged in the liquefaction and delivery of LNG.
Renewables
We recognize and understand the challenges of modeling and operating renewable energy assets and management of renewable energy certificates (RECs) as part of the Energy Transition
Complex Structured Transactions
We are experts in modeling complex structured transactions like NatGas AMAs (asset management agreements) and Power Purchase Agreements (PPAs) to support risk, operational, and settlement needs.
Challenges We Solve
We help companies develop a 360-degree view of the customer by leveraging technology to streamline operations, automate processes, and make smarter decisions for day-to-day and future success.
Enable smarter decision-making
Manage positions on a day-to-day basis for trading and operational decisions. Get visibility into current performance against short-term and long-term forecasts to enable quick pivots and business velocity.
Improve operational efficiency
Improve operational efficiency through visibility into the end-to-end process from scheduling to settlement and their effectiveness. For example, leverage insight into trading efficiency by instrument type or error counts to tune operations.
Manage risk effectively
Gain visibility and transparency across the commodity value chain to monitor risks and risk factors impacting deal valuation, portfolio valuation, and book valuation. Manage all forms of risk effectively: market risk, location risk, financial risk, regulatory risk.
Enrich customer engagement
Deliver rich, engaging experiences with your customers. Enable them to understand position management, valuation, settlements, and invoicing, and provide them with decision support tools around commodity decisions and pricing.
Our Capabilities
We apply our Energy Management Business Process Framework to understand and benchmark your business, and develop purpose-fit solutions.

E/CTRM SOFTWARE SELECTION
Selecting the right CTRM platform to support your business strategy is critical to achieving your goals and realization of long-term benefits. CTRM systems can be a big investment and a powerful enabler with straight-through processing, complex modeling, and risk management capabilities.

E/CTRM SOFTWARE ASSESSMENT
Evaluate the current state of your E/CTRM platform for optimization. We look at: State of counterparty integration around front, middle and back office processes, overall end-user satisfaction and adoption, deal profitability, reporting and insights.

E/CTRM IMPLEMENTATION & UPGRADES
Our hands-on experience across leading CTRM systems across all commodities and business processes underpin our ability to deftly navigate common issues for implementation and go-live.

PROCESS DESIGN & OPTIMIZATION
Increase efficiency, timeliness, and accuracy of business processes through standardization, automation, and meaningful monitoring/measurement.

CLOUD INFRASTRUCTURE OPTIMIZATION
Assess existing on-premise or Cloud environment to design an Azure environment that provides top performance and maintainability

CUSTOMER/PARTNER PORTAL
Connect with customers and partners with branded portals that enable information sharing, collaboration, and feedback into sales activities in Sales Cloud.
How we do it
MRE's Differentiators

Energy Industry Knowledge

Trading Operations Technology Experience

Business Process Framework

Track Record of Delivery
E/CTRM
We help companies manage deals from the trading floor to commodity delivery, while managing enterprise risk and protecting profits.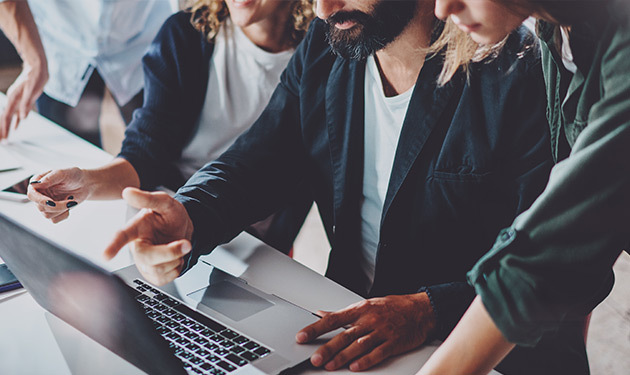 Case Study
Implementing a CTRM platform for data-driven trading operations
New acquisitions created a complex operating environment that required assimilating people, processes, and technology to thrive in the competitive natural gas marketplace. Technical and operational automation provided the client with accurate tools to achieve business goals.
View Full Story