Training & Development
Learn and grow through continuous learning opportunities
Training Courses
Training courses online ranging from project management, business analytics, and practical technology skills. Consultants can access thousands of training courses through our online portal, Udemy.
Sponsored Certifications
Sponsored certifications for recognized industry certifications from Microsoft, Salesforce, Project Management Institute, and others.
Discussion Panels
Discussion panels on leading technology and industry trends including robotic process automation, master data management, and field service.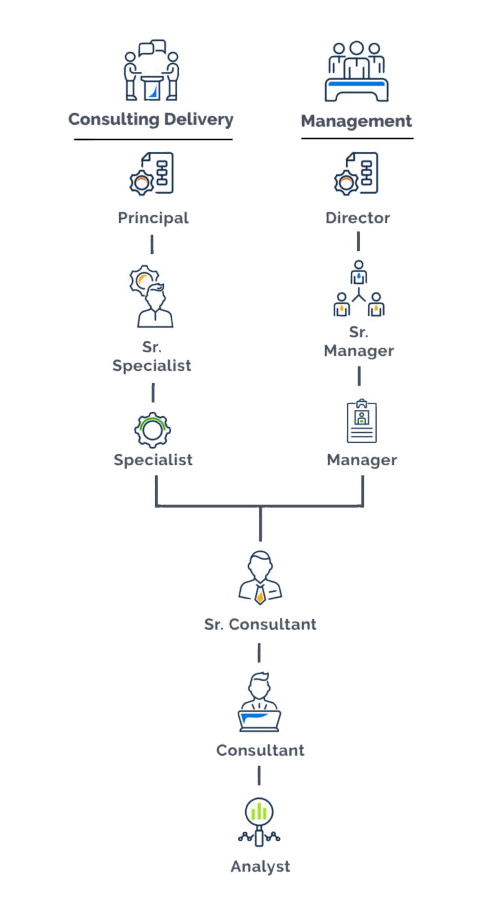 At MRE, we pride ourselves on fostering our internal talent and giving our people the tools to succeed. When starting a new career in consulting, most of our staff begin at the Analyst level and work their way toward Sr. Consultant. From there, we put you in control of your career. With help from your career advisor, you're able to decide if you want to get involved with firm management, such as recruiting, sales, operations, or focus on delivery.
Career tracks at MRE are fluid, allowing you to dynamically drive your experiences and create a bespoke career. This creates a balance between your personal aspirations and the firm's needs, as you continue along your journey with MRE.
The Consulting Track is for individuals who want to grow a more client-oriented skillset, developing a rapport and building the "trusted advisor" relationship to drive new business opportunities inside and outside of our organization. Individuals gain exposure by cultivating the MRE brand through delivering high quality client results and developing new content for projects. This experience gives our people valuable credentials that can be taken to future projects.
The Management Track is for individuals who want to lead our team by building and growing MRE, both inside and outside the organization. Through strategic leadership in client delivery, people, and company operations, individuals strive towards positioning MRE to succeed in the years to come. This track provides the opportunity to use your own cultivated knowledge and experiences to actively drive and shape MRE's go-to-market strategy. We encourage individuals to embody the spirit of entrepreneurship, which is at the core of our organization.
Career Advising Program
Advocate. Empower. Guide.
A career in consulting can be difficult to navigate. Our Career Advising Program (CAP) helps people achieve their highest potential. Each employee is paired with an advisor who will act as their mentor, coach, and champion.

In the early years of MRE, our team was trained personally by our founding partners. As we grew through the years from a handful of employees to 200 billable consultants, we recognized the need for a formal training and career development program. This led to the creation of our Career Advising Program (CAP), with the objective to ensure that all employees have a personal advocate for their professional growth. Our goal was to shift from the industry norm of "you're only as good as your last project" to a career development model that values employees for their overall performance.
Our CAP program is designed to be adaptable to meet each individual's needs and provide guidelines and structure for navigating key career conversations like compensation and performance reviews. Ultimately, MRE and CAP's mission is to help our people reach their full potential. After all, our people are our greatest asset.
CAP Advisors
Advocate for you, helping you set and achieve goals.
Empower you with the tools and resources for success.
Guide you with sound guidance and industry knowledge.
Advocate.
Empower.
Guide.
Advising relationships are
PROFESSIONAL – Focused on your career and well-being.
OPEN  – Open and transparent communication.
WELCOMING – Accessible and representative of our core values.
PERSONAL – Tailored and unique to your goals and needs.