3/21/ 2023
Cycling enthusiasts are getting ready for the 2023 Bike MS: Texas MS150, which takes place this April in Houston's sunny and warm spring weather. Over the past 20 years, Mike Short & Shane Merz have been riding for Bike MS – come rain or shine – building their lifelong friendship in the process.
Mike and Shane 's story
Technically, it all began when Mike's mom asked him to join her and a friend on their 180-mile two-day journey from Houston to Austin to raise funds for the National Multiple Sclerosis Society in 1989. It didn't take much convincing; Mike thought, why not? If his mom was going to do it, he figured he could as well.
"My mom talked me into doing it with her. I didn't train, and it was apparent. On the first day, I had to take a nap at the last rest stop. It was brutal."
It was nearly a decade later, in 1998 when Mike and Shane decided to do the ride together in support of Shane's mom, Dr. Mary Ann Merz, who had been diagnosed with relapsing remitting multiple sclerosis (RRMS). Shane borrowed Mike's bike and Mike borrowed his mom's bike, and they definitely trained this time. It was a gratifying experience shared between friends, in which riding together became more meaningful than any other show of support.
Fun fact: Shane went on to "borrow" Mike's bike for over 15 years.
After a couple years of cycling on other company teams, MRE Consulting officially formed their own team in 2003. Team MRE, comprised of our extended network of employees, contractors, clients, and spouses, grew as an expression of MRE's enduring commitment to "going the extra mile" together.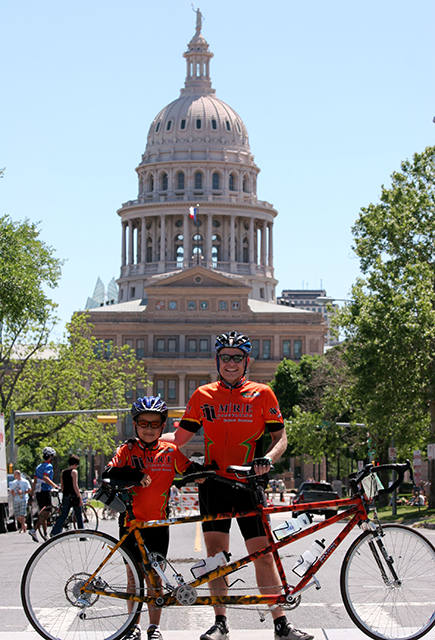 For Mike, participating in the Bike MS: Texas MS150 was a family affair. He fondly recalls how his parents would come out and park the RV on the side of the road. "They would wait for us on the side of the road and cheer us on when we passed by. My mom was an avid photographer and captured some amazing moments throughout the years."
When his kids were bigger, they took turns joining him. They hitched a ride on a trail-a-bike at first and then eventually graduated to riding on a tandem bike with Dad. Though some might argue that two riders on a tandem bike can go faster than a single cyclist (since it doubles the cycling power), that wasn't exactly the case here.
"It was extra hard work since I was doing all of the pedaling. But doing the ride with my kids, those are the most memorable rides for me."
Over the years, Shane took an active role as a member and fundraiser for the National MS Society's Houston/ South Central chapter. He worked diligently to ensure the local community was equipped to provide support services such as accessible transportation, while actively campaigning to increase participation in the MS150 ride, and was routinely recognized as part of the 300 Club as a top fundraiser.
Team MRE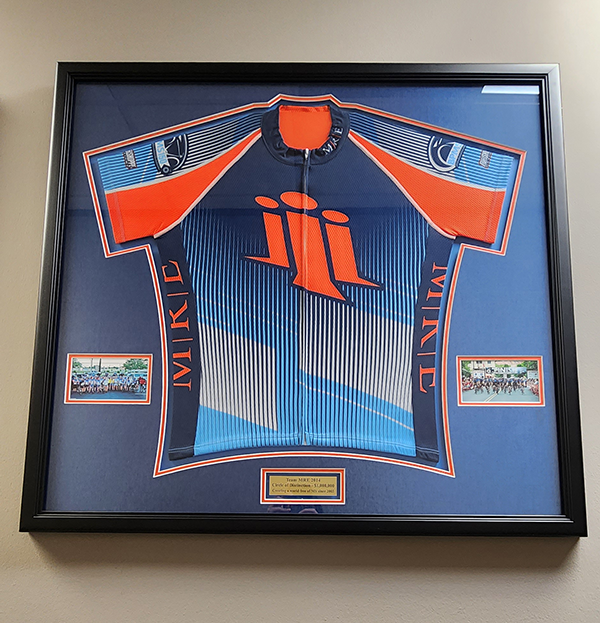 Team MRE has taken part in Bike MS every year since 2003 (excluding covid and weather cancellations). Over the years, the team has fundraised $1.7 million for the MS Society, having 60+ riders at one point.
Our collection of team jerseys are proudly displayed at the MRE office, but you also can find one hanging as part of the Bike MS Team Hall of Fame at the MS Society Houston office for recognition of our on-going contributions.
The best memories are the ones of the people who make up the team – here are a few stories with names replaced with initials to protect them from friendly jibes:
"WB" accidentally wore his wife's bike shorts – or so it was rumored! Poor guy must not have been very comfortable.
"SC" did the entire 180 miles on in-line skates instead of a bike – incredibly impressive and a little crazy!
"KS" was responsible for the "most hated MRE jersey" in history, aptly nicknamed the "Barney the dinosaur" because of its prominent purple and green.
"DC" was a support person for the first time after a decade with MRE and has vowed to continue every year for the camaraderie – we will hold him to it!
"TM" took such long breaks at every rest stop, he kept the whole support team sitting in Austin on Sunday. That began the official institution of the "TM" rule which designated how long the MRE support crew would be available at each stop.
*Somebody* didn't train one year. He wiped out and cracked his helmet. Remember to train, train, train!!
"KS" drove back to Houston between Day 1 and Day 2 to watch a Tom Petty concert.
For a few years, on Day 2, we stopped about a mile from the finish line to drink margaritas until the whole team arrived so we could ride across the finish line together.
Our Future Together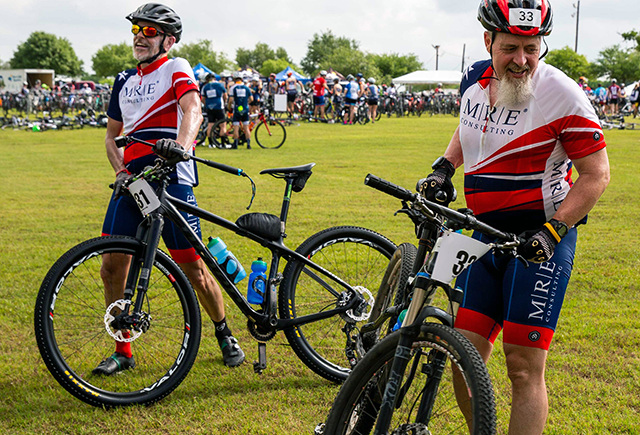 The Bike MS: Texas MS150 ride is a cornerstone in Mike & Shane's relationship and a part of the core history of MRE Consulting.
"I may have been part of getting Shane into cycling, but Shane is the reason I continue to Bike MS." – Mike Short.
This year, we are aiming to raise $100,000 to support MS research and the MS Society's mission to help those living with multiple sclerosis.
We are proud of our 20+ year history with Bike MS and the impact it has had on the lives of thousands of people with MS. We have seen tremendous medical advancements in research and treatments for MS over the years and look forward to supporting the cause even more.
We would like to thank all our riders, past and present, and all of our friends and family who have supported us throughout the years.