Meet Albert Quiroga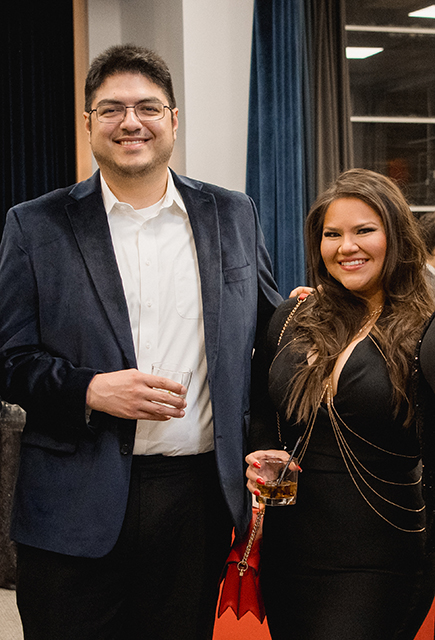 One of our custom developers and CTRM specialists, Albert Quiroga, plays an integral role in helping our clients navigate the complex world of energy and commodity trading. Learn more about his experience and how he contributes to our team's success.
What is your background?
I went to school at UT Arlington in DFW and studied Management Information Systems. After graduating, I worked for SunGard and an industrial automation company. While there, I actually worked on the technology for the Helix Producer 1, a floating drilling ship that is currently used in the Gulf for production and offloading. I also have a Masters in Computer Science Information Systems. I wanted to get more exposure to Cloud and SaaS technologies because I could see the growth and direction in that space.
What do you do at MRE?
I do custom development for energy and trading organizations. I've been with MRE for 9 years now, going on 10.
One of my projects was to build a system to track and manage letters of credit. Letters of credit are an important credit instrument that allows counterparties to leverage a bank guarantee to facilitate a trading transaction. The client at the time was using spreadsheets and emails for tracking. This meant details like company and bank names, amounts, and validity periods were manually entered and not easily reportable leading to mistakes or lost opportunities.
My project team built an end-to-end platform for managing letters of credit. It is integrated with the SWIFT network (Society for Worldwide Interbank Financial Telecommunication) to pull in data directly from banking institutions and internal systems so it can be associated directly with the trade, risk and credit management system, and the corporate data warehouse for the original contract document. The platform became a single source of truth for letters of credit globally that the client organization still uses today.
What skills does someone need to be successful as a Developer?
Learning a laundry list of languages is not necessary. The most important skill is problem solving. If you know one development language like Java and have strong logical deduction skills, you can apply that to pick up the syntax for other languages quickly. This is especially important in consulting where you need to adapt to the architecture and development preferences of the client company you're working with.
My first client focused on Java and C#. My current client uses Java, C#, C++, Python, VBA, SCALA – you get the point, it's a lot and you have to adapt. Personally, I really like working with Java because it's the language I learned first. It's also widely used for enterprise-level platforms and webservices. I know a lot of people prefer Python which feels more like an object-oriented scripting language.
Most interesting custom development project?
We built a business analytics platform that aggregates multiple data sources to enable smarter decision making. The client wanted to bring together weather data, vessel data, natural gas pipeline data, and commodity trading activity – all in one place and visualized in Spotfire. What made this so interesting were the types of analytics and insights they wanted visibility into by connecting all of the different sources of data.
Often times, the solutions I'm building are limited by the time-to-market. I have to come up with a solution that can be delivered within the team's deadlines and then improve or iterate later versus taking a step back to consider the full business problem and solution architecture.
What technology innovation are you excited about seeing?
Over the next 10 years, there are going to be exciting applications of artificial intelligence and crypto-based technologies. The potential is huge.
Even at client companies, I am seeing more investment in leveraging artificial intelligence for analytics.
Further in the future, I see decentralized autonomous organization (DAO) models gaining more popularity. A key tenet is decentralizing and automating decision making through blockchain technology. It offers a model that smaller organizations can use to compete with larger organizations, cutting some of operational costs that do not directly contribute to the end product.
Why do you enjoy working at MRE?
I enjoy being able to determine the pace of my own project and career, but while knowing I have a team who is behind me. People have always been willing to help any time I have reached out. This supportive work environment at MRE stands out to me in comparison to other companies.
What advice would you give?
The two things that have helped me the most in my career are:
1) Always be willing to learn. There's always something new to learn in technology that's around the corner. Keeping on top of new developments is important.
2) Always be willing to take responsibility. If I make a mistake, I'm not afraid to own it. I take it as an opportunity to learn and prevent repeating that mistake again in the future. People will appreciate and respect you more for this attitude especially if you already have another solution in hand.
What do you do for fun?
I play golf. I can go for a year without playing, and in a few days, get right back into the swing of things. Sometimes, I'll play Wolf with friends and end the day on top. It's a round robin golf game for a group of 3-4 people where players will take turns being the wolf. Every hole is a betting opportunity. Since the wolf gets an automatic par, they have the advantage, but the other players get three chances to beat the wolf and win the pot.
I've always been a Houston Astros fan. I've been attending Astros games since before I was even born. My parents are both lifelong Astros fans and they have certainly passed that on.
What's a random fact people don't know about you?
I met my wife when I was working on my Masters. I was on a different campus to meet with my advisor, so I didn't know my way around. I stopped to ask her for directions, and we just hit it off! We have a boxer mix dog named "Botox", because when we got him, he was really wrinkly.