A leading retail energy provider wanted to increase the number of new customers driven from their customer referral program. They understood that referral marketing is one of the most effective customer acquisition tactics, with 93% of consumers trusting referrals over any other form of advertising. Previously their Refer A Friend process was dependent on service representatives asking customers if they were interested in referring friends during call center conversations, limiting the reach of the customer referral program.
If a customer said yes, the agent would initiate an email to the customer with details about the promotional reward and how their friend could sign up.  If a customer shared this email and the friend signed up for service, both the referrer and their friend would each receive a promotional reward. To help grow the customer referral program, the company created an email campaign to target new customers during the onboarding process as well as message existing customers periodically throughout their lifecycle. The email audience would also target customers who had provided positive feedback and remove customers who had provided negative feedback recently.
Implemented Technologies
Salesforce Sales Cloud & Salesforce Marketing Cloud
The MRE team worked with the client to design an email campaign targeting new and existing customers. The client wanted to maintain their existing systems and processes related to generating, promoting, and redeeming the customer referrals, so the new campaign would need to work in conjunction with the current state. The campaign targeted new customers during their first month of service as well as existing customers who were more likely to refer a friend, based on criteria the company had identified.
The company also added key communications to the promotion lifecycle. Once a new customer signs up with a referral code and the service plan is initiated, a message thanks them for signing up, recaps the promotion details, and provides them with a code to refer their own friends to earn additional rewards. In addition, a thank you message is also sent to the original customer who referred the new sign-up and again, reminds them to continue to refer more friends for additional rewards.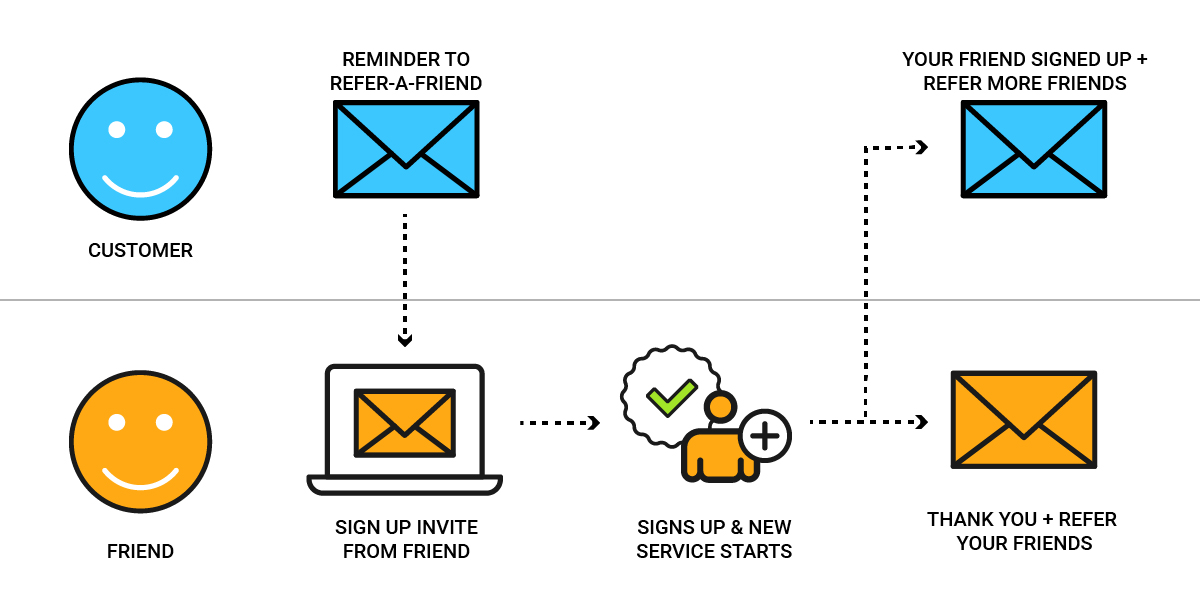 This closed loop new Refer A Friend communication process is set to communicate the value and program details to customers at the time the message is most relevant for them as part of the promotion lifecycle. Previously, participating customers would have to call customer service to follow-up on the status of referral rewards. Proactively communicating referral status and expectations would also help to reduce customer service calls.
By using Marketing Cloud our team was able to identify the appropriate target audience based on Salesforce data and injected them into their proper Journey campaigns. All the customer referral emails needed as part of the campaign were personalized and branded for the company's three different retail brands included in this project.
The client also wanted all referral program emails to include a QR code linked to a new customer sign-up page. This QR code would also be included in other customer communications as well – like printed bills. Our team built out Apex classes in Salesforce to generate a QR code through a 3rd party API service, save the image as a static resource file, generate a public-facing URL to the image, which would be used in Marketing Cloud and other sources.
What We Delivered
Results
The increased promotion of the customer referral program and the enticing promotional reward for both the referrer and their friend enabled the retailer to increase referral sign-ups by 340% in one year.
The resources needed to acquire a new customer in the competitive Texas energy space can be costly. By turning customers into brand advocates, the improved Refer A Friend process created a tremendous win for new customer acquisition. The program also motivated loyalty among existing customers and bolstered customer retention.