This year, we celebrated the 20th annual Dreamforce, Salesforce's annual event where they showcase their current and upcoming product news, partnerships, and customer show cases. Nearly 40,000 people gathered in San Francisco as the biggest gathering since the pandemic to share in discussions about the future of personalization, the magic of Genie, and how technology can drive sustainability. One thing was clear, the Ohana was back in full force.
Here are the biggest Dreamforce takeaways we heard: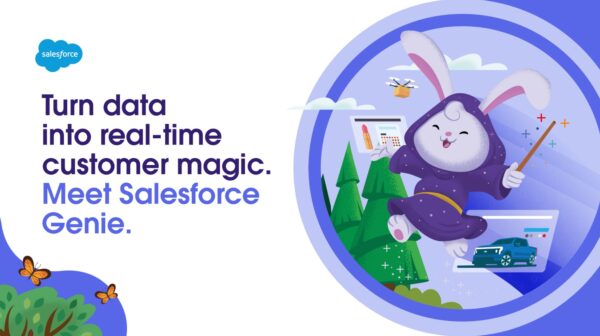 Salesforce Genie
Salesforce Genie is a new feature announced at Dreamforce that will allow ingestion of real-time data to enable an organization to respond faster to customer interactions. Ingesting data faster will enable a more personalized experience for consumers using the most complete and up-to-date information from previous interactions.
Typically, customer data is delayed due to limited access to the source data and time to load that data into a consolidated form. Salesforce's new Genie feature allows its products to subscribe to streaming APIs or read directly from source systems which allows Salesforce to take action on events in real-time.
The biggest benefit to Salesforce CDP (Customer Data Platform), both with and without Genie, is the consolidation of contact attributes from source systems to create a golden profile for that contact.  It acts as a customer master aggregating various sources used by downstream subscribers.
Slack Canvases & Huddles
New Slack features will facilitate knowledge sharing and collaboration among virtual teams.
Canvas will provide the ability to share content, and knowledge to collaborate using an interactive board linking the information to the slack channel.
Huddle will provide the ability to start a conversation using video and screen sharing from a channel.
Hyperforce!
Hyperforce is Salesforce running on public cloud infrastructure, starting with AWS.  This allows Salesforce to leverage the elasticity of the public cloud to improve speed and scalability.
A big advantage of Hyperforce is to support locally based data residency and GDPR region specific data rules.
Several Orgs in specific regions have migrated to Hyperforce already.
Salesforce will have a work with organization to support the migration starting with simpler Orgs.   Orgs with complex integrations and several AppExchange installed apps may be more difficult, requiring regression testing.
Lightning Flows
Salesforce has invested heavily into Flows with a tremendous number of enhancements.
Flows are being used to trigger complex background automation and deliver personalized screen flows for guided user engagements.
Flows are being enhanced to integrate with all Salesforce products including Slack, Marketing Cloud, and new APIs.
Salesforce & Whatsapp
Salesforce and WhatsApp have entered into a new partnership that will bring instant messaging facilities to their Platform. The arrangement will set the stage for integrated and personalized experiences between people and businesses, adding to their ability to communicate on popular channels.  Salesforce believes instant messaging is "the next great customer engagement frontier".
Specifically, WhatsApp messaging will be built into Salesforce Marketing Cloud, Service Cloud, and Commerce Cloud applications, in support of promotional and customer service use cases.
As a side note, investments are being made to integrate Salesforce with WeChat to engage the Chinese market.
Subscription Management
Salesforce's Subscription Management creates and categorizes product catalogs, manages pricing, generates invoices, processes payments, issues credit memos, and tracks customer purchases over time.
Subscription Management helps deliver a single seamless customer experience from purchase to adoption to renewal.  Salesforce's solution is delivered using process automation and technology to guide the flow through product catalog management, order fulfillment, and billing.

Customers can shop for B2B products over any channel, including self-service.
Sales Reps can access and updates customer orders using the subscription management tool. For example, changing quantities or applying discounts.
Customers can make changes to subscriptions using self-service channels.
Transactions are managed automatically for finance to generate orders, invoices and process payments.
Pricing models: Static, Usage, Contracted, Percent of Total, Block.
Salesforce DevOps Center
DevOps Center is Salesforce's new product that improves the change and release management process when developing with Salesforce. It allows teams to take advantage of modern DevOps best practices, whether they choose to use the new DevOps Center click-based user interface or existing modern tooling like the Salesforce CLI or IDEs.
World's Largest Enterprise Apps Company
Salesforce has displaced iconic SAP as the world's largest provider of enterprise applications.
Salesforce is projected to reach $31 billion in revenue this year
"#1 Most Innovative Companies" (Forbes)."#1 Best Workplaces" In multiple regions globally. "Top 100 Companies that Care" (People) 6 years in a row.
Above all, we are excited about the continued innovation and growth of Salesforce. Salesforce officially overtook SAP as the world's biggest provider of enterprise applications as companies continue to move to SaaS and Cloud solutions.
Want to see more? Catch the replays on Salesforce+ !